Reading leads to traveling with the mind in a parallel dimension, excites, allows you to grow, but also to have fun. In order to engage and attract the reader of your ebook, blog, text, or short social post, you've probably done passionate research, rewritten drafts to the point of exhaustion, until you find the best version to publish.
While your content may be engaging and connect deeply with your readers, simple mistakes and typos can drastically disrupt their experience. The solution for you might just be proofreading. Simple, fast, and even Free!
Even the best writers are prone to mistakes: simple oversights like "on" instead of "in", "you're" instead of "your", or typos, and duplicate words. Simple mistakes can cause the reader to focus on these instead of your content, and you may lose credibility; it's called the "teeth-spinach effect": if I eat spinach before I speak at a conference and have one piece left between my teeth, my audience will be focused on that instead of my compelling speech.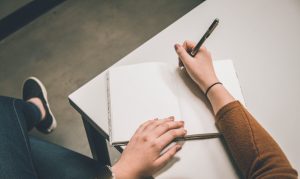 Proofreading should be done, first, by the author and only then by the editor. However, it can be very challenging to find errors by the author, this is because of mental tricks: the brain already knows what it is going to read and will not pay proper attention to any grammatical oversights.
Thanks to these exceptional proofreading tools you can give the right quality to your texts so that the spelling is up to the standard of your content. Let's discover them together:
Grammarly is perhaps the best tool for advanced writers: it checks and detects spelling, structural and grammatical errors, not only that, but it also checks for possible plagiarism.
Available in:
– Free version: sufficiently advanced, brings excellent results to your text
– Premium version: includes advanced features; two subscriptions for teams (companies and academic institutions) are available and one for individuals
Even in its free version, Grammarly has proven to be an excellent online proofreader. In a very short time, it scans the text, provides the results in a list that you can scroll through so that you can make only the corrections you deem appropriate. It also gives you the ability to upload and store documents in the cloud so you can retrieve them later.
Pros:
Grammar and spell-check assess vocabulary in relation to context.
Highlighted writing prompts, arranged in a list, with a single click you can make corrections.
Scoring and reporting.
Cons:
Only premium versions give access to advanced correction controls.
You can use Grammarly on your mobile devices by downloading the app on the App Store or Google Play, or as a web editor, desktop, or browser extension.
ProWritingAid is the ideal tool for fiction and non-fiction authors, bloggers, students, corporate copywriters, thanks to its dependence on artificial intelligence, it constantly improves the quality of the service.
Available in:
– Free version
– Premium versions: monthly, yearly, or lifetime subscription – includes advanced plagiarism control features
ProWritingAid has proven to be efficient and easy to use, and Premium plans have no word limit.
It detects grammar and spelling errors and suggests correct alternatives for editing.
There are 20 reports available with statistics on your writing that will allow you to monitor areas of writing for revision, improve your style and expand your linguistic horizons.
You can set the writing style between business, academic or general options, this way ProWritingAid can optimize the accuracy of the suggestions according to the context.
Pros:
Grammar corrector, style editor, and writing prompts.
It can help you improve efficiency, reputation and develop new skills.
It offers suggestions and synonyms for the repetition of words or phrases.
Cons:
The free version allows you to edit only 500 words at a time.
The premium version has limitations when it comes to anti-plagiarism checks.
You can use ProWritingAid Free online; the Premium version offers browser and application integration in addition to the desktop application.
Ginger Software is ideal for writing and correcting in real-time.
Available in:
– Free version provides weekly correction limits for using the extension
– The premium version includes three plans: monthly, yearly, and two years
Ginger Software, in its Free version, is an excellent online proofreader that has extensions for Microsoft Office and most browsers.
It provides you with real-time suggestions and allows you to directly use online editing or paste text for corrections.
Ginger Software corrects in real-time and boosts your creativity.
Pros:
Real-time grammar and spell check thanks to extensions.
Premium version allows the use of advanced features such as translation into more than 40 languages and no limits on synonyms of words or phrases.
Cons:
In case of use by many users at the same time, it may happen that the server doesn't respond, thus preventing correction. The Free version has limitations on corrections
One of the favorite tools of many bloggers and communication managers.
Available in:
– Web, Premium, and Business versions
WhiteSmoke's wide range of correction solutions makes it the tool of choice for many communication managers. In addition to offering writing templates such as resumes, cover letters, reports, and business proposals, it also provides automatic translation and a series of statistics that accurately identify translation variations.
Very interesting is the educational aspect that not only shows you the offspring or phrases to correct but also explains the weakness and provides you with a rich thesaurus of synonyms.
Pros:
Corrects grammar, punctuation, spelling, style and has plagiarism checker feature.
It has an educational approach, provides explanations when checking.
Includes translation feature.
Cons:
There is no free version.
You can use WhiteSmoke with all browsers in the Web version, while the Premium and Business versions also integrate seamlessly with Windows 7, 8, 10, MS Office, and Gmail.
Paper Rater is ideal for bloggers and students.
Available in:
– Free version
– Premium version with a monthly plan
Paper Rater is a simple tool for writers who want to do one last check before publishing
Pros:
Grammar, spelling, and plagiarism check.
A simple tool that uses artificial intelligence and gives you writing prompts.
Cons:
Both the Free and Premium versions have monthly limitations on length, submission, and plagiarism check
The ideal free tool for writers and businesses.
Available in:
– Free version
It is very easy to use a spelling and grammar checker that uses artificial intelligence and provides you with explanations thus enriching the educational experience.
It offers you suggestions thanks to the rich vocabulary and statistical data to allow you to monitor the areas of writing that need improvement.
Pros:
It is completely free.
It offers grammar and spelling checks.
Cons:
Lacks many features compared to its competitors
1Checker is available online, for Windows, for iOS or you can download plugins for Outlook and Microsoft Word.
The ideal free tool for bloggers, students, and writers.
Available in:
– Free version
Pros:
Quickly correct grammar and spelling.
Provides you with customizable feedback to suit your readers
Completely Free.
Cons:
Like 1Checker lacks advanced features
SlickWrite offers you a range of features if you're looking for a totally free proofreading tool.
You can write directly online using the editor or paste the text to be analyzed. The tool highlights corrections to be made, redundant phrases, and passive tones. Thanks to its structure, you can also link directly to Google or Wikipedia if you want to learn more about synonyms and antonyms, simply by clicking on the pop-up that appears when you pass over the indicated words.
Thanks to these tools you have the possibility to improve your style making it more appealing, increase your writing potential and open your horizons enriching your vocabulary, and, last but not least, provide your readers with texts in which your contents emerge in all their potential.
These are just some of the proofreading tools you have at your disposal, but new ones are being created every day to meet the needs of users.
Whether you are a blogger, a writer, a student, a communication manager, or a writer for pleasure, Langpros will correct your content, finding the right strategy so that it perfectly fits your target audience and context.